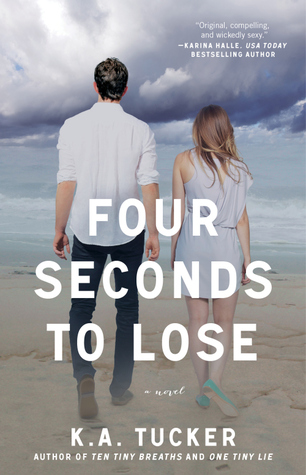 Release Date: November 4th, 2013
Summary from Goodreads:
When a gorgeous young dancer walks through his door, a strip club owner must decide whether to follow his rules or his heart in the third novel by the author of One Tiny Lie and Ten Tiny Breaths.Owning a strip club isn't the fantasy most guys expect it to be. With long hours, a staff with enough issues to keep a psych ward in business, and the police regularly on his case, twenty-nine-year-old Cain is starting to second guess his unspoken mission to save the women he employs. And then blond, brown-eyed Charlie Rourke walks through his door, and things get really complicated. Cain abides by a strict "no sleeping with the staff" rule. But being around Charlie challenges Cain's self-control…and it's been a long time since any woman has done that.
Twenty-two-year-old Charlie Rourke needs a lot of money, really fast, in order to vanish before it's too late. Taking her clothes off for men makes her stomach curl but Charlie tells herself that at least she's putting her acting and dancing skills to good use. And though her fellow dancers seem eager to nab their sexy, sophisticated, and genuinely caring boss, she's not interested. After all, Charlie Rourke doesn't really exist—and the girl pretending to be her can't get distracted by romance.
Unfortunately, Charlie soon discovers that developing feelings for Cain is inevitable, and that those feelings may not be unrequited—but losing him when he finds out what she's involved with will be more painful than any other sentence awaiting her.
Review:
I listened to Four Seconds to Lose via the audiobook so I will first speak to the writing and then the narration.
I think the Ten Tiny Breaths series is such a great example of the New Adult genre. K. A. Tucker is fantastic at creating interesting and complex characters and stories. I honestly wasn't sure I would like Four Seconds to Lose since it was Cain's story. He just hasn't been a huge player in either Ten Tiny Breaths or One Tiny Lie and what small role he did play made me think he'd be an incredibly dull character. I was, thankfully, one-hundred percent wrong.
Four Seconds to Lose is told in dual POV, switching between Charlie and Cain. The story starts out with a bang, giving the reader a glimpse inside Cain's life before Miami and Penny's. It's rare that I find a prologue that hooks me so completely but I was instantly more intrigued by Cain's story and realized there was probably a lot more to him than I thought.
Both Charlie and Cain are a bit of mystery to everyone around them. Cain runs his strip clubs with strict policies put in place to protect his employees, his end goal to help each and every one of them get out of the sex-industry. Charlie is just looking for a job that will make her enough money to get allow her to run far away from her illusive past.
This book is full of enough deception to make your head spin. I was so completely absorbed by the twists and turns and revealing Charlie's secrets that I'd sit in the parking lot when I got home from work and sneak in a few more minutes of listening time. There were times I was so shocked and appalled by the things both Cain and Charlie endured throughout their lives at the hands of the people who should have loved and protected them.
My favorite part of this story was the slow build-up between Charlie and Cain. It is immediately obvious that they are attracted to each other but both are governed by strict rules, Cain doesn't get involved romantically or physically with his staff and Charlie doesn't get emotionally attached. I loved watching them get to know and push each other. I thought the chemistry was really well done and although their attraction was instantaneous I never felt that their relationship was rushed. In fact, there was so much tension mounting between them when it hit the boiling point I wanted to scream "about time!"
As for Charlie and Cain as characters, I really liked them both. I have no complaints about Cain; he was a really great guy. He was fiercely protective of the people he loved and although he had his skeletons and indiscretions he wasn't a bad person. I just loved how quiet he was but when he had something to say, he was definitely heard. His sarcasm and abruptness made me giggle on quite a few occasions, especially his interactions with Ben. Charlie definitely wasn't the most rational character ever but she had a lot going on and I thought she handled it in the best way she was prepared for. Of course there were times where I wish she would have just spilled all her secrets but understandably she didn't in order to protect her friends. So I was able to look past some of her decisions and show some empathy for her situation.
I loved that we got to see some familiar faces with extended interaction rather than just cameos. I loved getting a glimpse into the lives of the previous books' characters. I also think if you wanted to read this as a standalone you could. Although it would spoil aspects of the previous books, there is enough character background given that I think readers would be able to keep up.
Overall this book was really good. I enjoyed that although it was part of a series it was new and fresh and didn't recycle the other storylines. It was suspenseful and romantic and K. A. Tucker's writing will have you desperate to keep turning the pages.
The Narration:
I LOVE Sebastian York. He was the perfect Cain with his deep voice and range of emotions. I've listened to a few books he's narrated and each time he gives the character their own respective voice. As for Elizabeth Louise, I wasn't sure if I would be able to separate Livie from Charlie since she narrates both but she was able to capture Charlie's attitude so well! I also enjoyed that they sounded like 20-somethings and not teenagers or elderly. It annoys me when a book has a teenage or adult character but the narrator sounds much younger/older. I was definitely impressed with the narration choices and their ability to bring Cain and Charlie to life.